Written by Peggy Bond
The Christmas season for me always brings back family memories – baking fruit cakes, decorating cookies, making gifts, shopping for a special gift, decorating the tree, and hanging Christmas stockings. While thinking about this coming Christmas, I remembered the long ago year when my older sister and I were 12 and 9 years old, and made felt Christmas stockings. We spelled our names out with sequins and stitched them together with yarn. It made me nostalgic and reminded me that my husband and I did not have stockings.
Inspired by the Needlepaint stocking cuffs, I adapted my old Needlepaint Christmas ornament designs for use as cuffs on stockings. These small 10" x 2.5" canvases were quick to stitch. The top and bottom edges of the cuff were finished with an overcast stitch as described below, and the sides folded under. It was easily sewn onto the front piece of the felt stocking. Front and back of the stockings were stitched together with embroidery thread using a chain stitch. I was traveling when I made these and didn't have my sewing machine, so all was done by hand.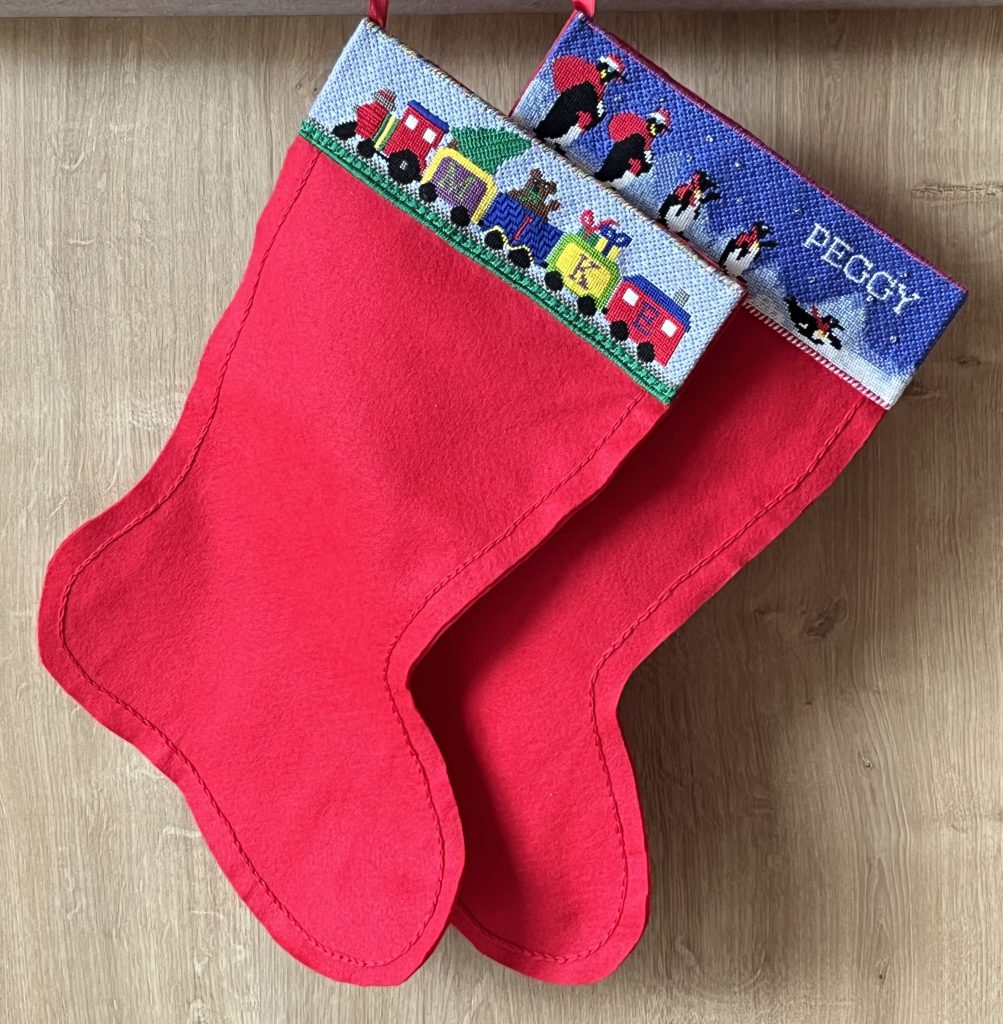 Instead of using the traditional needlepoint binding stitch, I opted to using an overcast stitch so that I could finish the edges in multiple colors. The stitches were worked on four strands of canvas folded so that there are two stands on the front side and two on the back. In this example, every other stitch is one in red and then followed with every other stitch in blue.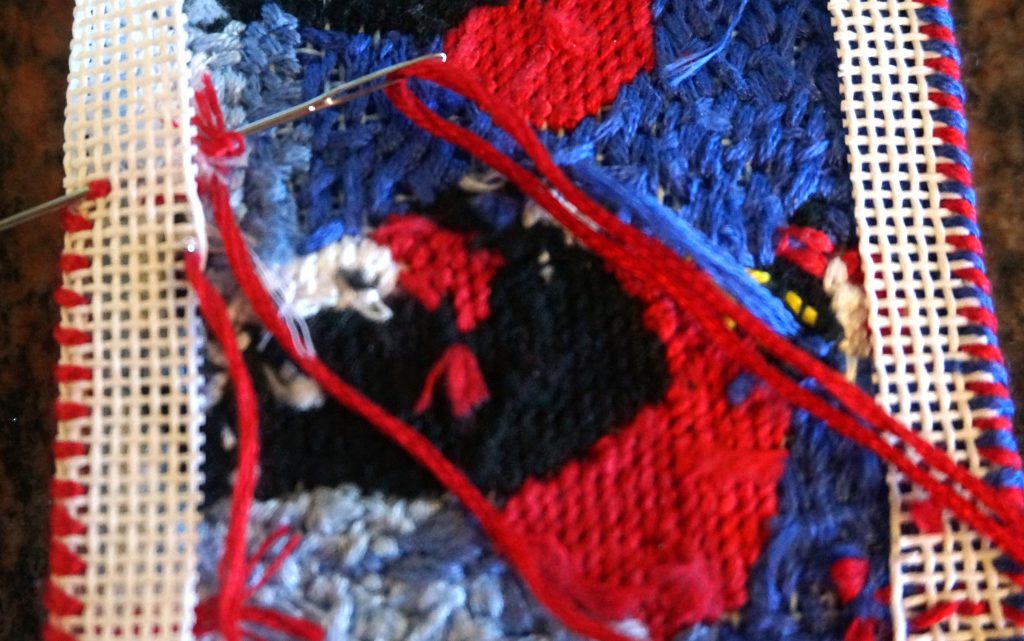 This is the same technique that is used for sewing plastic canvas together, except you are working with a folded needlepoint canvas instead of two pieces of plastic canvas. The color variations give the canvas an additional dimension. And, on the train canvas, I used the same stitch with six different colored strands of embroidery floss on the needle.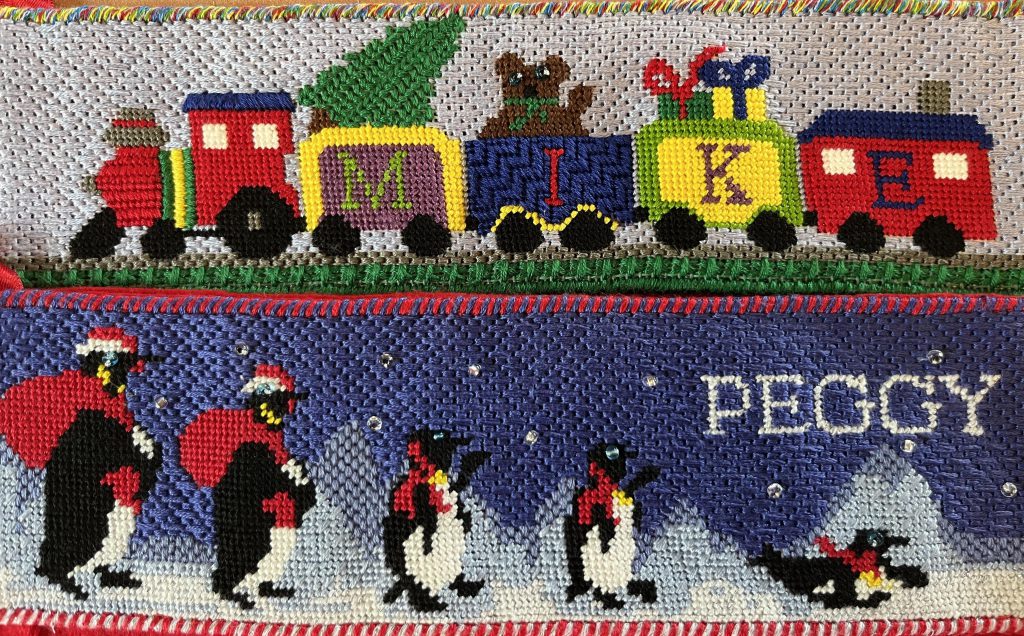 I have had request for cuffs from friends and family and have adapted several more of the original ornaments to cuffs. Each can be customized with a name. All are 18 mesh canvas designs except for the final snowflake design which is 14 mesh canvas.

Angel Song Stocking Cuff Needlepoint Kit

Candy Cane Stocking Cuff Needlepoint Kit

Penguin Parade Stocking Cuff Needlepoint Kit

Holiday Sleigh Stocking Cuff Needlepoint Kit

Flying Santa Stocking Cuff Needlepoint Kit

Ornaments Twinkle Stocking Cuff Needlepoint Kit

Gentle Snowflakes Stocking Cuff Needlepoint Kit

Holiday Express Stocking Cuff Needlepoint Kit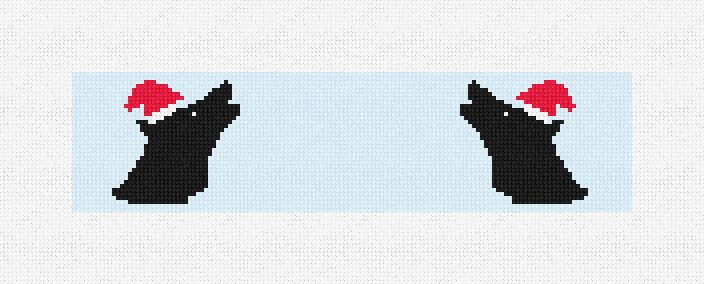 Wolf Song Stocking Cuff Needlepoint Kit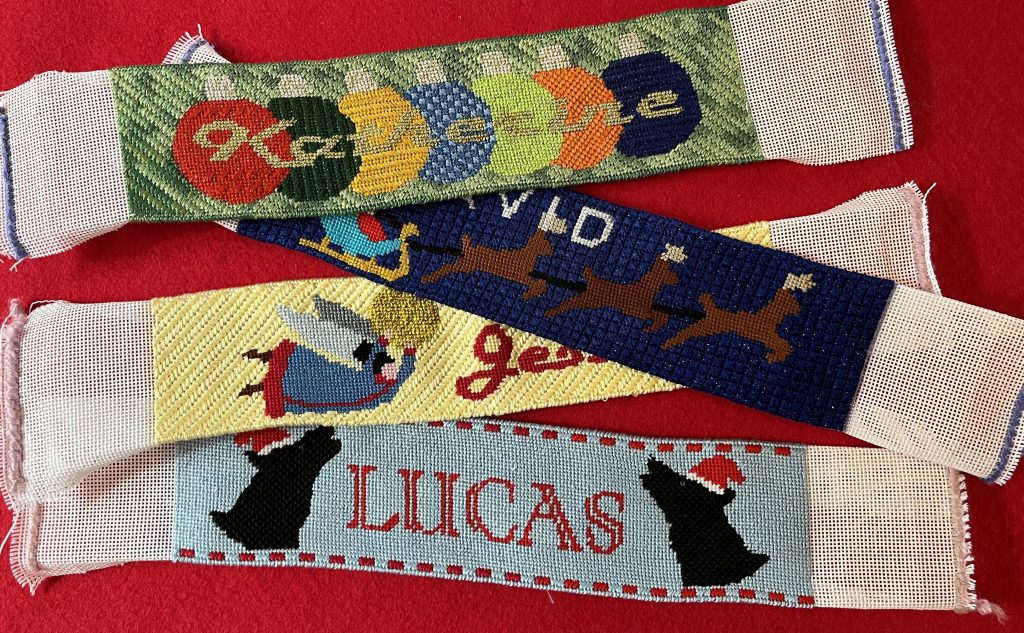 It's never too late for Christmas stockings and the finishing of these is quick and easy.
New felt has arrived. Time to block and finish the latest creations.
Happy Holiday Stitching!