"Mom's smiles can brighten any moment,
Mom's hugs put joy in our days,
Mom's love will stay with us forever
and touch our lives in precious ways" . . . .
This year skip the flowers and the candy — stitch a thoughtful gift to show your mom how much you love her today and the other 364 days of the year! These NeedlePaint Mother's Day Kits will look great finished as a door hanger, a charming ornament, or even perhaps a softly scented sachet. 
Best Mom Ever Needlepoint Ornament Kit
"Once upon a memory, someone wiped away a tear.
Held me close and loved me, thank you mother dear."
Soccer Mom Needlepoint Ornament Kit
"There is no blessing quite so dear, as a mom like you to love year after year."
Mother Needlepoint Ornament Kit
"Of all the special joys in life, the big ones and the small,
a mother's love and tenderness is the greatest of them all."
Number One Mom Needlepoint Ornament Kit
"Mothers hold their children's hands for a short while, but their hearts forever."
Super Mom Needlepoint Ornament Kit
"A mother is your first friend, your best friend, your forever friend."
I Love Mom Needlepoint Ornament Kit
"Mom you've given me two things. One is roots, the other wings."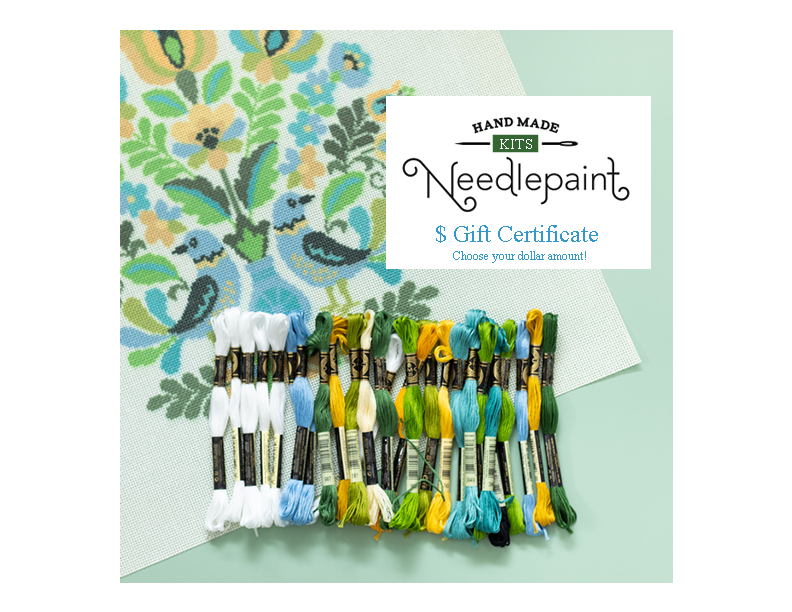 Is your mother the one in the family who loves to stitch?
Give her a needlepoint gift certificate that will lead to hours of enjoyment!
Contact us with any questions that you may have. If you would like to purchase a gift certificate that can be printed out on your home computer, please let us know at: info@needlepaint.com
Stitch a thoughtful gift for your Mom!