We have some new needlepoint designs that use similar color choices and that is every bit intentional!  I like to get color concepts and trends from historic, vintage and even ancient art.  So here's a bit about where the color is coming from this week…
The latest needlepoint pillow kits use the same color seen in ancient Turkish Iznik art.  Cobalt blue, red, and white are the main colors used and these beautiful designs.   The Iznik design can be seen tiled above doors and painted on pottery.   Sometimes lighter shades of blue and a bit of green are added into the mix, making a balanced blend of bright colors.  We loved the intricacy of the patterns in Iznik art and the colors seem to pop nicely for an accent pillow!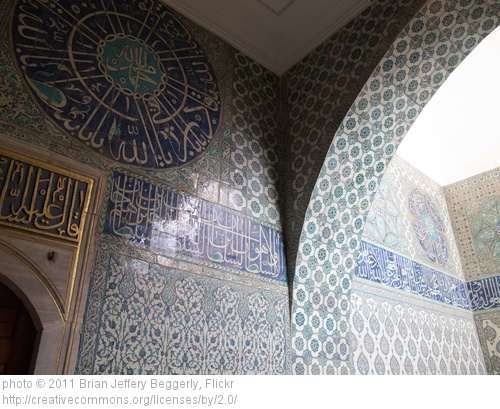 These designs are even seen  adorning walls, walkways and doors.  I thought it could be quite fun and challenging to try to stitch one of these in needlepoint.  Below is Needlepaint's take on the Iznik color.  Enjoy!