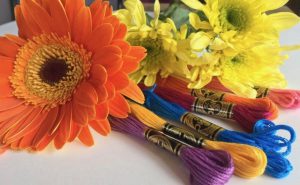 This time of year I become very anxious for signs of spring and some fresh new color. The "winter like" weather still teases us with one warm beautiful sunny day, only to wake up the next day, with blizzard like conditions.
Spring is full of new beginnings! Why not learn how to needlepoint or teach a beginner how to needlepoint. If you're a veteran stitcher, learn a new stitch or try a new type of thread. Here at NeedlePaint, we have needlepoint projects for all skill levels.
To welcome in spring, we have taken inspiration from those blooms; we are so anxiously awaiting to appear in our gardens. We have created some needlepoint canvases for you to enjoy stitching, and add that much needed color you may have been craving. You'll love stitching one or all of these three new pillow designs!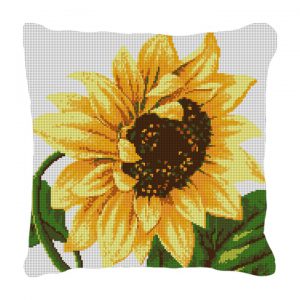 "The sunflower is mine, in a way." — Vincent Van Gogh
Sunflower Needlepoint Pillow Canvas
Truly brilliant and joyful, sunflowers say summer like no other flower!
In the language of flowers; sunflowers represent adoration, loyalty and strength.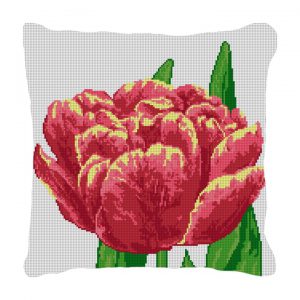 "A tulip doesn't strive to impress anyone. It doesn't struggle to be different than a rose.
It doesn't have to. It is different. And there's room in the garden for ever flower."
— Marianne Williamson
Lacy Tulip Needlepoint Pillow Canvas
Awakening from a long winters nap, and gently announcing springs arrival;
the tulip is always a welcome sight for the new season!
Marco Polo described peony blossoms as "roses as big as cabbages".
Peony Needlepoint Pillow Canvas
Layered, fluffy and papery, the peony has an unusually giant blossom. In the language of flowers;
peonies represent romance, prosperity, a happy marriage, riches, honor and compassion.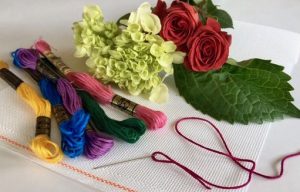 "It was one of those March days when the sun shines hot and the wind blows cold,
when it is summer in the light and winter in the shade." — Charles Dickens
Remember we are here to help you with all of your needlepoint needs! We do offer a pillow finishing service, creating a finished pillow with your stitched canvas. Feel free to contact us with any of your questions at: info@needlepaint.com.
We hope your spring is full of new beginnings — and many colorful skeins of thread!