Written By Peggy Bond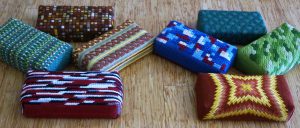 A needlepoint doorstop is one of the most functional needlepoint projects you can stitch; and finishing it doesn't require any unusual supplies or skills. If you can stitch a canvas, you can finish the doorstop.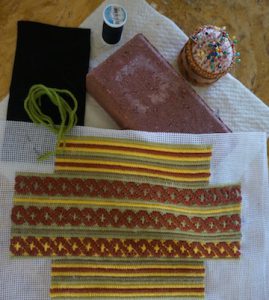 The supplies are simple:
Needlepointed canvas
Brick
Lightweight quilt batting or flannel to cover the brick
Felt or heavy wool for the bottom of the brick
Needle and thread
Optional: a glue gun
(Note: Dimensions for these directions are for an 8″ x 4″ x 2″ concrete brick.)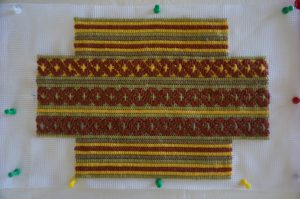 Preparing the Canvas: Begin by blocking the finished canvas so that it is square. If the canvas has been stitched on a frame, there should require minimal blocking that often can be completed with a steam iron. Put the needlepoint face down on the ironing board or towels. Set the iron for steam and hold ¼" above the canvas. While canvas if warm and damp, tack it into final shape on a Styrofoam surface or a board as shown above.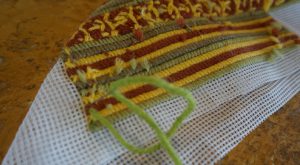 Stitch the corners of the blocked canvas by folding the right sides of each corner together as stitching through the last needlepointed stitched. This can be done by hand or by machine.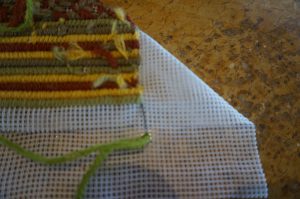 Trim the mitered corners to ½" and press open. Turn canvas right sides out.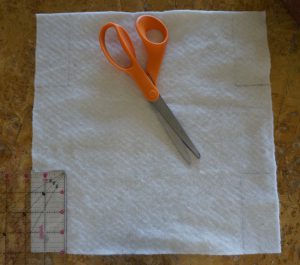 Wrapping the Brick: Since the brick has irregular edges that easily catch on the canvas, it is recommended that you cover the brick with lightweight quilt batting or flannel.  Cotton/bamboo batting is my preferred choice. This will give a smoothness to the finished project and protect the canvas from snags and wear. Cut a 12.5″ square of cotton batting and trim 4″ x 1.75″ from each corner as shown above.
Now here is where there is a choice – to glue or to sew.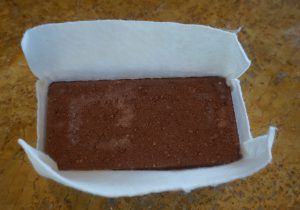 Sewers will miter the edges with a ¼" seam as described above for the canvas. Again this can be done by hand or by machine. Turn the batting so that the stitched edges are to the inside, i.e. facing the brick. Insert the brick with its sharp/squared edges down.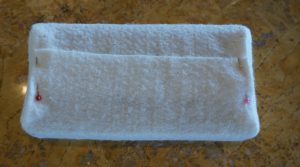 Fold over the batting and stitch in place. The wrapping can easily be glue gunned in place. Not my thing, but a good process for this part of the finishing. A glue gun is not recommended for the final two steps of the finishing process.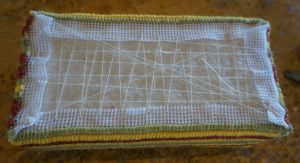 Putting It Together: Insert the covered brick into the finished needlepoint canvas with the bottom of the brick facing up. Lace the canvas in place. Cut a 8″ x 4″ rectangle of felt or heavy wool. Felt is easier to work with as it does not ravel. Stitch in place. Voila a finished doorstop.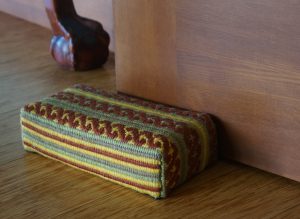 No more slamming doors!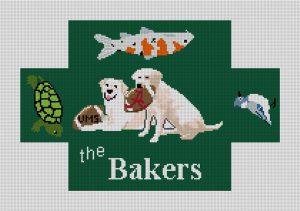 Here at NeedlePaint.com, we offer a personalized brick cover needlepoint canvas, and a custom designed needlepoint brick cover canvas for you to stitch.