Ah, the places you'll visit, the places you'll see . . . . but when the trips over, where will you be?  
You like to travel, explore new places, and see new things. You also love returning to the place, where you can hang your hat, when the adventure is over. When back at home, the dust has settled and your bags are unpacked. Now it's time to cozy in and stitch NeedlePaint's new Compass Rose needlepoint pillow canvas. This design is available as a needlepoint canvas for you to stitch, or as a fully finished needlepoint pillow.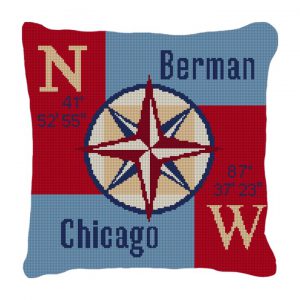 This compass rose design, represents the place you call "Home Sweet Home". Personalize it with your family name and city, along with your latitude and longitude location. We can also change the colors to match any decor. 
There is comfort in where you live, a special spot you can call your own. A place where you can stop the hustle and bustle of everyday life: do "nothing" (if that's an option), carve out some time to think, regroup, recharge, dream about plans for the next adventure, and do a little needlepointing.  
"There's no place like home" . . . . happy stitching!