There are so many great choices and personal preferences involved when planning a new needlepoint project to stitch. NeedlePaint would love to help you plan your next project!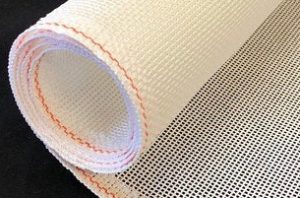 NeedlePaint offers Zweigart Mono Deluxe needlepoint canvas.
Project size:
Choosing the overall design size of your canvas — do you want to stitch a belt, pillow, key fob, wallet, flask or maybe even a guitar or purse strap. We can create very large canvases, small canvases and everything in-between.
Canvas Mesh size:
Choose the canvas mesh size that works best for you — The mesh size of the canvas represents the number of stitches per inch. An 18 mesh canvas (with 18 stitches per inch) is usually used for smaller projects that require more detail; and a 10 mesh canvas would be used on something like a large floor pillow. It often depends on what type of thread you want to use, or maybe even what you can see visually.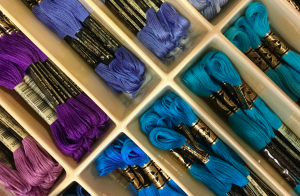 NeedlePaint offers DMC embroidery floss, or Waverly wool for your canvas!
Types of thread:
Choosing the type of thread depends on your canvas mesh size and your preference. 10, 12 and 14 canvas mesh sizes work great with wool thread. 14 and 18 mesh sizes work great with DMC embroidery floss. Thread choices are varied, and at Needlepoint we offer two types of thread. You have the option to of DMC embroidery floss, which is a 100% pearl cotton six-strand thread; and Waverly wool, which is 100% wool, and a three ply thread. We also will be happy to create a canvas for you without supplied thread. We know that a many of you like to use thread from your own stash, or simply like to pick the thread type and colors yourself. 
Original photo on the left, and a printed canvas of that image on the right.
Printed needlepoint canvas: 
NeedlePaint offers a huge selection of stock designs. If you're looking for custom needlepoint; we can draw it for you, or we can print an image directly onto the canvas for you from a photo, drawing or graphic. We create your design image in a computer file, which assigns each square on the canvas a color. We then print your image onto blank canvas with a heat transfer process, and our computer generated file creates a stitch chart color guide. These charts help with the process of stitching; letting you know what color to use in each square. This is especially helpful if you have a background in cross-stitching, but not needed if you are used to following the colors on on the canvas.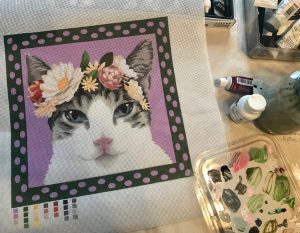 This is a hand painted needlepoint canvas we did for a customer, who preferred a solid lavender background and wanted to add a decorative border, using the original photo.
Painted needlepoint canvas:
NeedlePaint would be happy to provide you with a hand painted canvas. This is a great option if you prefer to stitch following the colors that are painted on the canvas and you don't need stitch charts for reference. Although a printed canvas is more cost effective if you are on a budget, a hand painted canvas is always a great option. Let us know if you would prefer a painted canvas, and we will be happy to give you a price quote for your project.

There are so many great options when planning your next NeedlePaint project, feel free to contact us and let us know how we can help at: info@needlepaint.com. replica relogios rolex best replica watches sites
breitling bentley motors t replica breitling pen replica
iwc antoine de saint exupery replica how to tell if rolex is real or fake