It is spring time again! Over the winter we've collected some wonderful photos that our customers that emailed to us after finishing their projects.  We've also collected a lot of reviews from customers and continue to maintain a 5 star rating online!
The fun stuff!  This purple princess crown serving tray was stitched by a wonderful customer in TX.  She goes by Weezie, and is one of those people that when you talk to them, you can feel the warmth coming from their hart.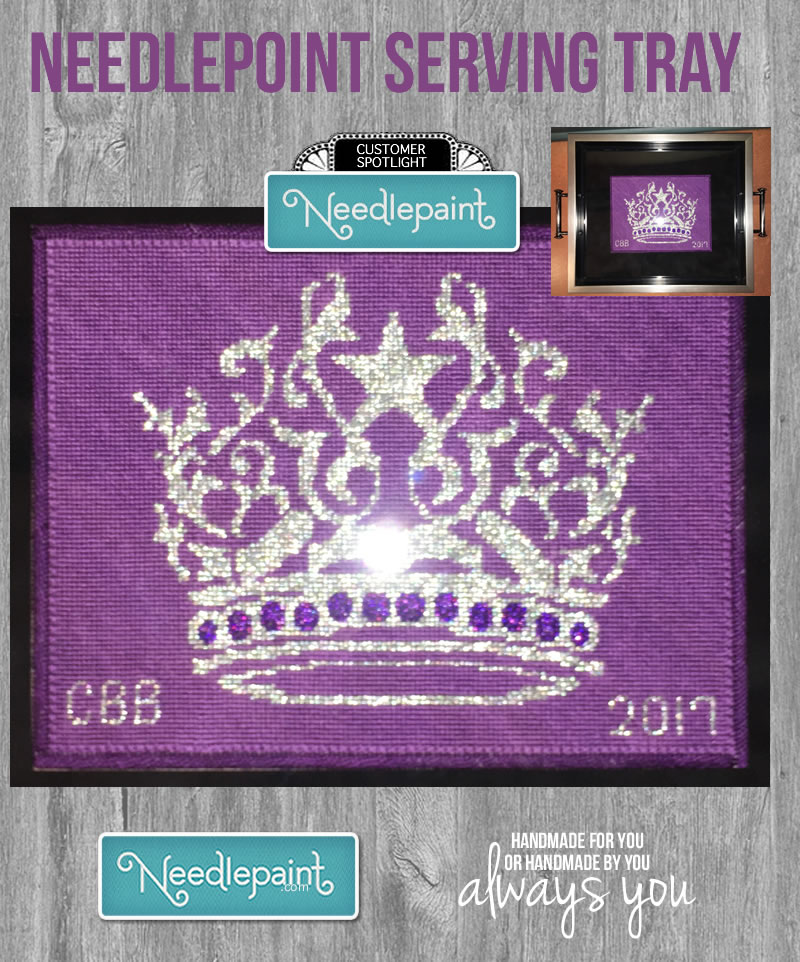 She used Kreinik gold #002HL for the crown, and boy does it sparkle!  The purple jewels are needlepointed in Kreinik purple.  The border is Mosaic and Gobelin.  You can see the serving tray in the upper right corner of this image.
Next is another fun custom needlepoint project by Weezie, she must have some lucky recipients!  She emailed us a crest of Argentina and we turned it into a custom needlepoint canvas, she took care of the rest!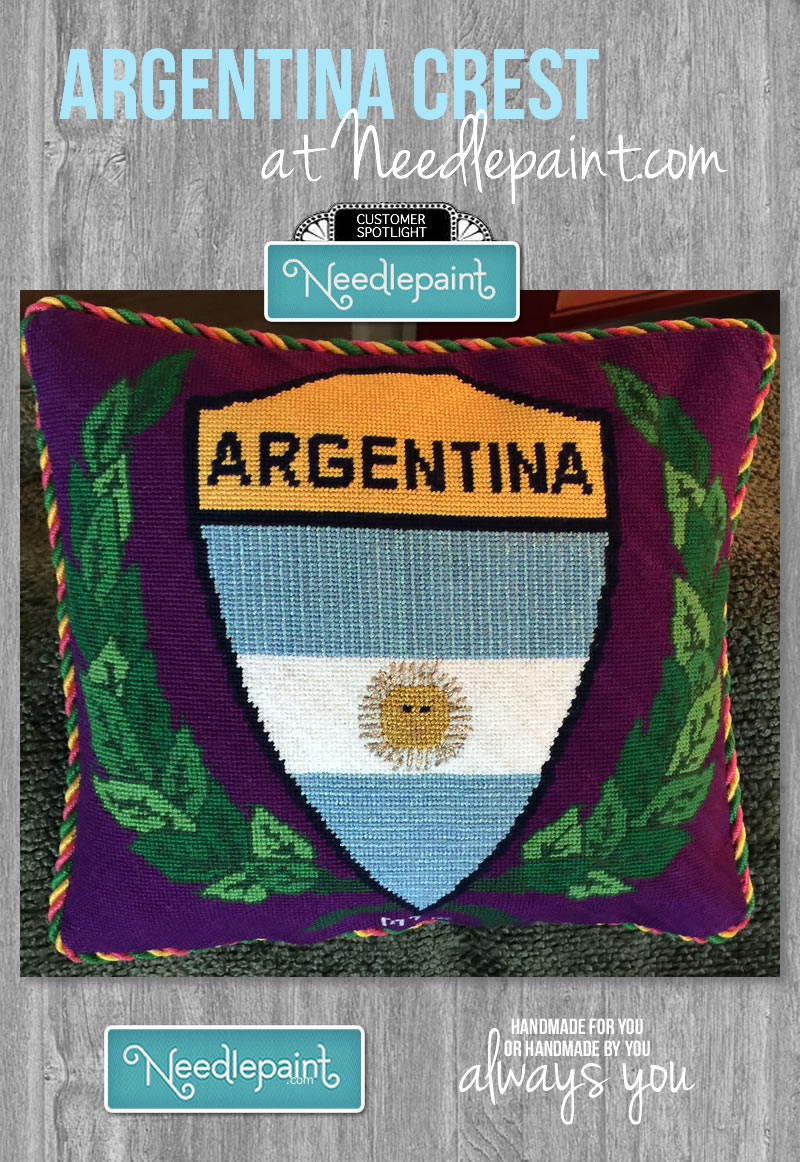 Another family heirloom needlepoint to share with you all is from Mary Ann, in PA.  She uploaded her design on NeedlePaint and emailed us the family crest.  We helped make sure the canvas had the needed details, including increasing the size of the family name on the bottom, and voila!  A piece that will be passed on to the next generation of the Price family.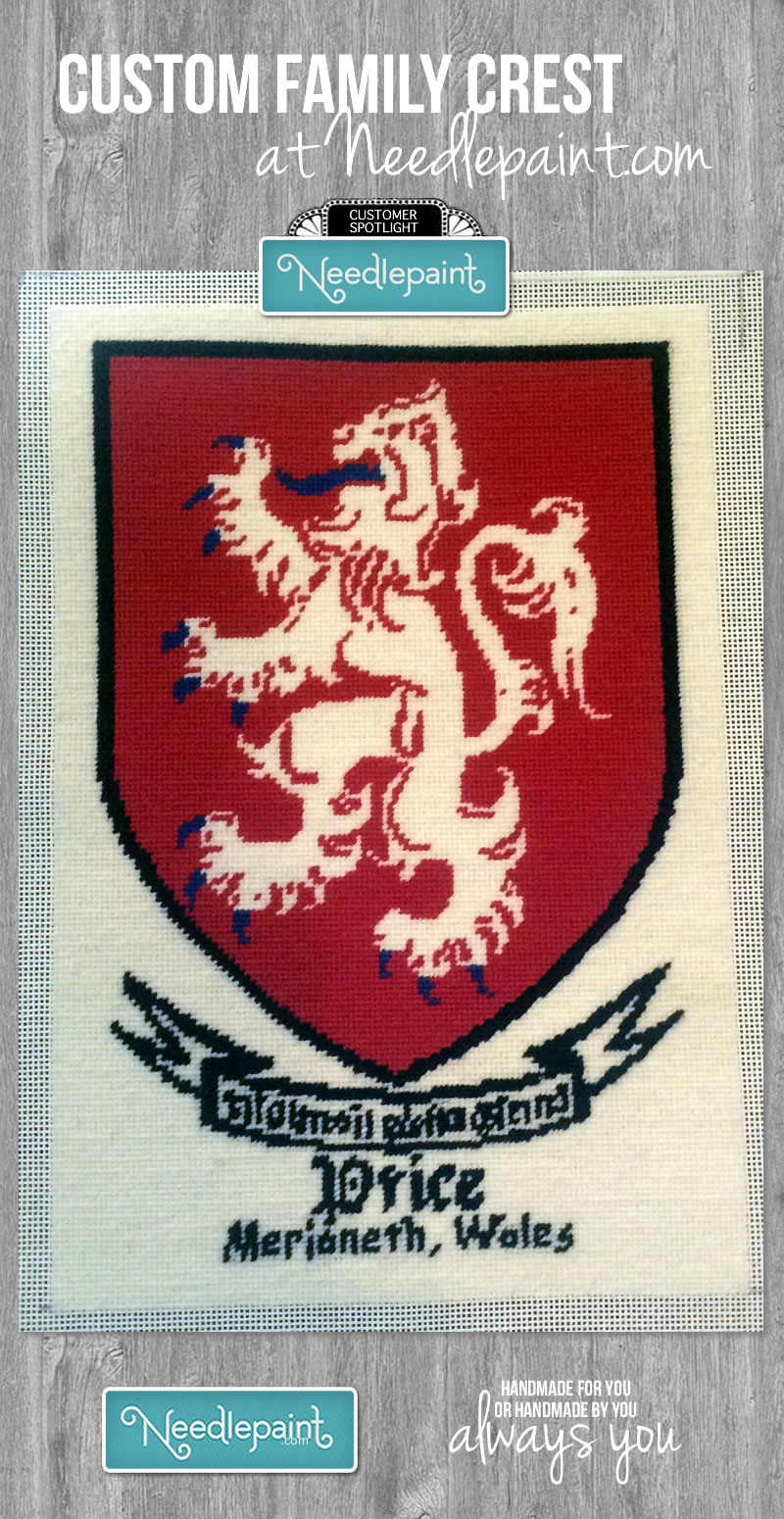 If you've been following our blog, you may be able to guess what is coming next.  Some more testimonial reviews from customers we've worked with recently.
-I just wanted to let you know that I got the needlepoint kit today.  It looks great! Thanks so much for your help!  Mary – 2017-03-23
-Belt (kit) arrived and it looks great!!!!   Many thanks.   Susan – 2017-03-20
-Needlepoints arrived and they are fantastic!  Started on the squid. The fish will a winter project.  Thanks for all your help. Pennie – 2017-03-16
-Just received my needle pointe.  It looks great… I'll send pictures when I'm done.  Thanks so much. Carole – 2017-03-08
–Looks GREAT!!!  Thanks again, you are the BEST!!!  Denise 2017-03-20
-I received my needlepoint and it is just beautiful.  Marie – 2017-03-02