Celebrating a marriage is undoubtedly not only an exciting time for the two people wedding, but it is a great time for others to celebrate their friends' and families' new chapter of life. It's no secret that nearly every detail of a wedding ceremony can be planned, so sometimes it can be hard to find something special to add to an already perfect day.
Joanna, from Virginia, knew that she could add a little something special to a wedding day when she stitched a beautiful custom needlepoint pillow for the ring bearers to use during the ceremony.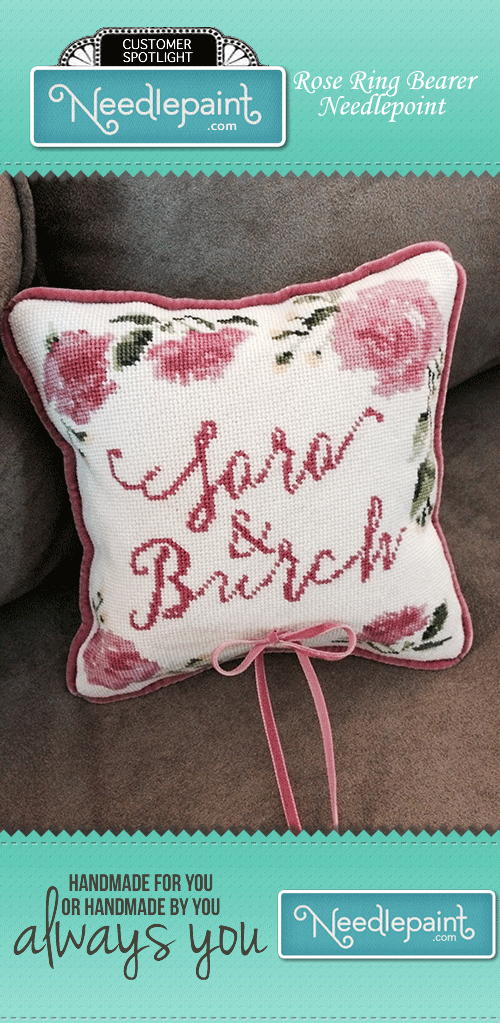 Joanna took a rose idea and turned it into something beautiful! She artfully decorated the roses onto the pillow, with the perfect colors to really bring the roses to life. The names of the bride and groom are stitched nicely into the pillow and accented with a well tied bow underneath.
Needlepoint pillows for ring bearers are a unique way to add another bit of accent to a wedding. The gift is fun, unusual, and always loved. After the wedding, the pillows can serve as a decoration on the living room couch, a windowsill, or simply your bedroom.
You can shop for this canvas here and create your own rose pillow customized with the names of the bride and groom. We're also happy to send you the pillow fully-stitched, ready to be used in your wedding or gifted.
Our needlepoint pillow designs are not limited to roses – look at all the designs we've worked on, or reach out to us to create your own custom canvas design or finished pillow.