Sometimes, a momentous occasion, or the end of a long week, just simply must be celebrated with a stiff drink. Many times, we find ourselves wishing we had a quick way to add a little bit of our favorite libation to a drink when we're relaxing on the beach, camping, or attending an event. Drinks are meant to be shared with friends and a custom needlepoint flask is the perfect way to start a conversation to go along with a drink.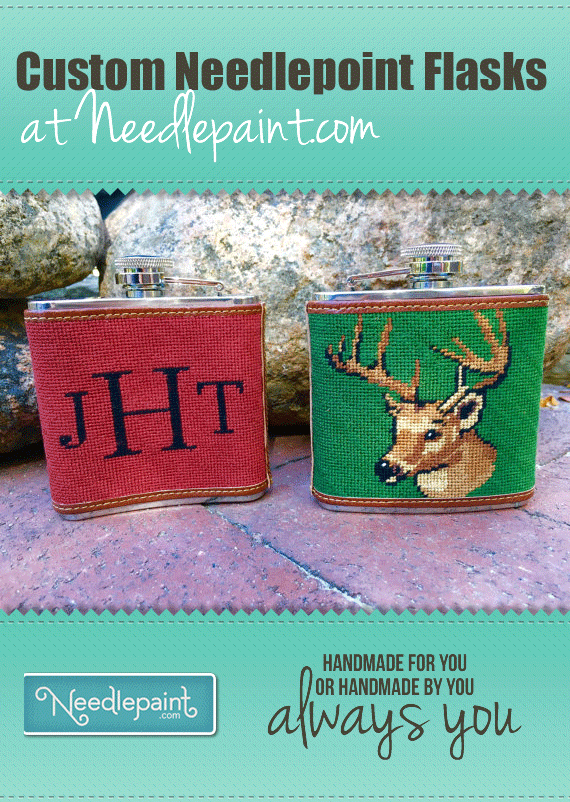 Our needlepoint flasks can be 100% custom designed by you to ensure the personality shines through. Each flask can be designed with a simple monogram, a design of your choice, or a combination of both. Some of our most popular flask designs have been nautically themed, with anchors or burgee flags, animal themed, with dogs, deer, or birds, or a combination of interests and hobbies.
One of the most popular uses for this product is custom needlepoint flasks for weddings. The flasks make great gifts for groomsmen and can be customized to have a wedding design on one side, and each man's monogram on the other, giving the groomsmen something they'll be able to use for years to come that will remind them of their participation in the wedding.
Flasks are also a popular gift idea for formal events, date parties, or simply for the holidays. We've seen many fraternity brothers gift these flasks to each other as "big-little gifts," or for birthdays and graduations.
No matter the occasion, we at Needlepaint can provide you the perfect design for your custom needlepoint flask. Check out some of the designs we've made and customize your own here!