At NeedlePaint we have created some new key fob needlepoint canvases for you to stitch, which are fun, quick, and will make the perfect gift for men, women and the kids in your family. We will certainly be adding to our design selection over the next few months, with great designs for all. The designs we are showing here, have a little something with the women in mind.

Key fobs canvases are achievable! Sometime the size of a project can be a little daunting. A key fob canvas is adorably small, and is definitely a quick project to stitch. All skill levels will enjoy stitching these canvases. If you're a beginner, they are the perfect project to learn on without becoming frustrated. In addition a key fob canvas is small enough to slip into a project bag and take with you anywhere.


"Fancy Floral" key fob (above) and "Jade Gingham" key fob (below) 
A fun project needs to have great colors and good design! It's always fun, if you are stitching a project with colors and a design that speaks to you. Each colored stitch makes your design come to life, and will keep your interest in the project. We would be happy to make a simple adjustment to a color or background color on your canvas . . . . don't be afraid to ask. Also, if you have an idea for your own design, let us know, we would be happy to translate it onto a custom needlepoint key fob canvas for you. 


"Quilt Stars" key fob (above) and "Hugs and Kisses" key fob (below)
Key fobs are the ultimate in usable needlepoint! Everyone has a set of keys! It's fun to personalize these little accessories, with images that reflect your personal taste and style. They are also big enough to locate in your handbag or backpack, but not too cumbersome, as they will still fit into your pant pocket.


"Under the Sea" key fob (above) and "Kaleidoscope" key fob (below)
Key fobs are the perfect gift idea! If you have already stitched a key fob for yourself, consider stitching one for the other members of your family. They make great birthday gifts, graduation gifts, or Christmas gifts! If you have a large number of people on your holiday list, this is a great way to give something heart felt, handmade, and a gift of equal value for everyone on your list, and yet each with a different design.


"Golfing Girl" key fob (above) and "Painted Ladies" key fob (below)
You've quickly finished stitching your key fob canvas, now let us do the leather finishing for you! We would love to give your beautifully stitched key fob canvas a professionally finished look. We also offer all of our designs as finished key fobs, if you would like for us to help with both the stitching and the finishing.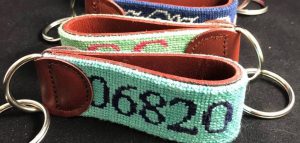 "A very little key can open a very heavy door." 
Remember we are here to help with all of your needlepointing needs. Feel free to contact us with any of your questions at info@needlepaint.com
Enjoy!