Tired of or frustrated by having to stretch your needlepoint canvas back into shape after you have finished needlepointing? That was always the part I disliked the most about a needlepoint project. Years ago I found a Victorian needlepoint/embroidery frame in an antique wholesale warehouse in San Francisco while I was looking for dining room chairs. No one was too sure what it was or what to do with it. I did! It was going to make my life much easier when I made the needlepoint seats for the chairs I purchased at the same time. The frame was itself a work or art, and I have used it constantly.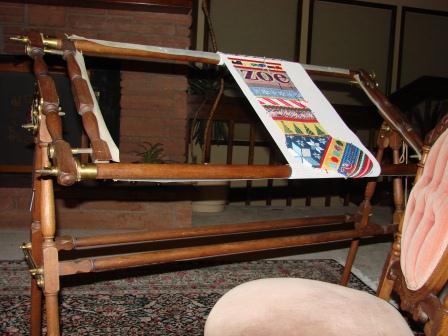 The only problem is that t it is not portable. So when I travelled I had to leave my needlepoint at home a take my knitting along. Then in 2001, security decided that one could not take knitting needles on the airplane. I had two trips to Europe planned and needed handiwork to take with me. Enter the Frank A. Edmunds Split Rail Scroll Frames which are also available at many retail stores. They come in varying sizes and don't require that you attach extra fabric to fit a specific size. I do, however, usually sew a piece of fabric to the top and bottom to give better tension to my canvas as I tighten it.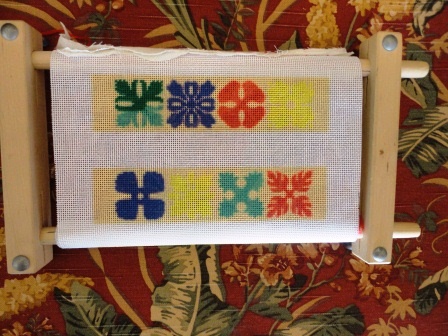 Frank A. Edmunds has many other frame products which might also be of interest. They have the new Handi Clamp Scoll Frame which I am tempted to try, but my old ones are still in working order.