By: Peggy Bond
Day 9, Nine Ladies Dancing
The Dancing Lady is stitched with 9 traditional stitches, none of which require explanation.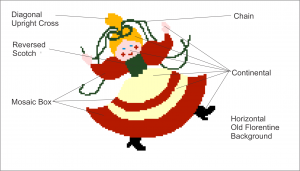 Let her smile keep you happy while stitching.
Day 10, Ten Lords A-Leaping
The leaping lord has a few different twists. His hair is done in French knots with 3 twists per stitch. It took me a couple of tries to get them correctly placed to give him a full head of hair. Not noted on the diagram is that the flower and leaves are done in Continental and the center of the flower is another French knot.