According to shopping reports, Christmas 2010 was the Christmas of the e-reader, and I was the recipient of one – a Barnes & Noble color Nook. On Christmas day with e-reader in hand, I was not only excited about the present but itching to get started on a new project – a personalized  needlepoint cover for my Nook.
I blocked out a simple three-color pattern for 18-mesh canvas and decided to use a trianglepoint stitch made popular by Sherlee Lantz in her 1976 book Trianglepoint, because it covers the canvas quickly and I wanted to get the cover finished before I scratched the screen of my new Nook. The canvas was the same width of the e-reader and an inch longer.  I planned the cover to be like a narrow box with a flap at the top which would fold over the top and fasten to the back with two snaps.
I was in such a hurry to start that I forgot to photograph the canvas before I started. Sorry!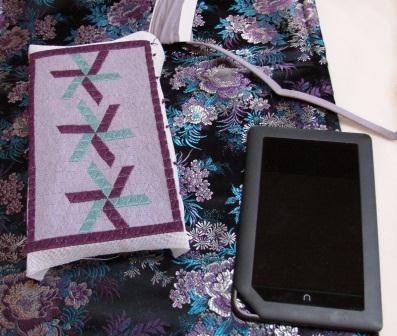 The photo above shows the finished canvas with the piping, backing and gusset fabric, and white fleece for lining which I used. The fleece lining serves a dual purpose. It protects the screen from being scratched and it also cleans the screen as the Nook slides in and out (Figure 2).
If I were to make this design again, I would extend the length of the needlepoint cover by another inch to have a longer flap. But mine is done now and I am a happy traveler with it.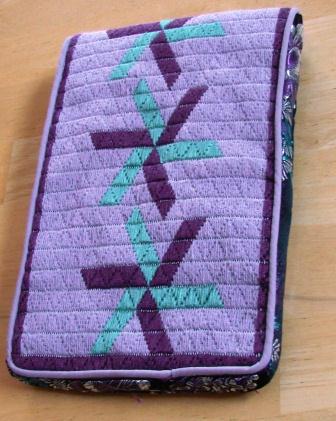 I have to confess that I don't read all my books on my e-reader, and I probably never will. But I travel a lot, and when I travel I always take books and needlepoint along. Now, my suitcase is lighter with reading materials on the Nook, including my essential needlepoint reference book The Needlepoint Book by Jo Ippolito Christensen