Written by Peggy Bond
It's 90 degrees in Maine and my 12 Days of Christmas Ornament are finished. Thought I would hang them on a tree and see if the weather would cooperate. All I got was more sultry weather and some thunder and lighting.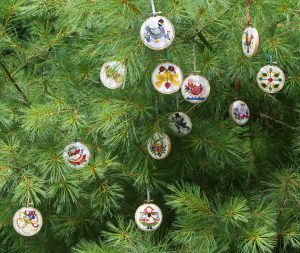 Clearly when Christmas comes, these ornaments will make any tree shine.
In finishing the ornaments, I learned a few things that I would like to pass on:
Order all 12 of the hoops at one time so that they will be of the same quality. There is a wide variation in hoops. I had ordered only 2 from Cloud Craft to see if they would work. That was when I was in France. Back in the US, I ordered 10 more the same brand from a different supplier but they were not of the same quality. So, I placed another order with Cloud Craft. The hoops arrived a week later and matched the originals perfectly.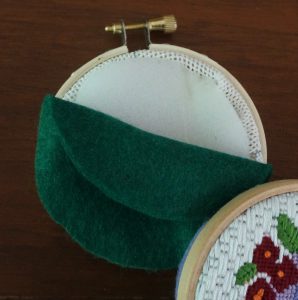 ½ inch foam makes a perfect padding. It is easy to cut, fits nicely into the hoops, and provides a smooth but firm filling. 
The ornaments are fun to stitch and using background stitches such as the Diagonal Mosaic,  Straight or Slanted Diagonal, or Medieval Mosaic will speed up the stitching.
There is plenty of time to stitch NeedlePaint's Twelve Days of Christmas Needlepoint Canvas Set before Christmas!