It is probably no surprise to you, that here at NeedlePaint we love our dogs! They are all so different in size, shape, and personality; and the perfect inspiration for designing new dog themed needlepoint kits, such as belts, pillows, wallets, and flasks. It's hard to pick a favorite dog breed, but I would have to say the English Bulldog is definitely one of my favorites. This dog is clever, devoted and has so much personality both in physical appearance and attitude. There is a lot of love in all of those wrinkles!

We've designed this English Bulldog needlepoint belt canvas with three perfectly playful poses. 
This breed of dog has a special spot in my heart, after once dog sitting my next door neighbors English Bulldog. This dog was getting on in years and I know her people were a little nervous about leaving, as she did everything with them. I would check in several times a day, and by day three, I could tell she desperately missed her people. It didn't look as though she had been sleeping in her bed, but on the rug by the front door. I decided to bring a book with me on my next visit, found a comfortable spot next to her bed and began to read out loud. Two hours later, I think she enjoyed the book as much as I did or maybe having someone nearby was the remedy. Finally falling asleep in her bed, I could tell she was comfortable and content by the rhythmic snoring that was taking place. Her people came back the next day, and life was back to normal for this sweet old English Bulldog. I wouldn't have guessed that this dog would have left such a special spot in my heart, but she did.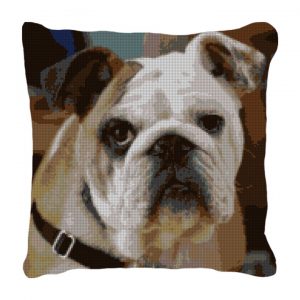 Full of personality and interest, our English Bulldog needlepoint pillow canvas
will definitely add some life to your living space.
You've heard the saying, "they come into our lives, steal our hearts, and life will never be the same again", . . . so very true! At NeedlePaint, we feature many breeds of dogs on our belts, pillows, wallets, flasks, and even offer custom dog needlepoint kits taken from your own photos.
These are all available as needlepoint canvases for you to stitch, or if you prefer we will do the stitching for you. This is a great way to celebrate or commemorate, the dog that touched your heart.

Fun, playful, and practical! Our English Bulldog needlepoint wallet canvas will add some
long needed personality to that tired old wallet in your back pocket.