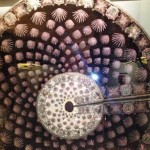 After a visit to the Legion of Honor Museum in Paris, I got inspired to retry some metallic threads. What prompted was this magnificent cape. It doesn't show well in this picture, but all of the designs are stitched with glistening metallic thread. If you click on the image, for a better view of the details.
Any way, I had some metallic DMC thread in the selection of threads that I had with me on my trip and decided that I should dress up the stockings a bit. I had used the thread before and found working with it difficult. It cracked easily and my needle slipped off easily.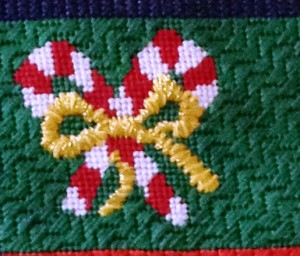 First lesson: Use it sparingly. I liked what I got when I added it as an accent to the bow on the candy canes. The underlying yellow was done in a modified satin stitch and the gold thread was stitched over one out of three yellow satin stitches.
Second lesson: Be patient and take it slowly.
Third lesson: Avoid the continental stitch. It was the only alternative for the tops of the ornaments and shouldn't have used it on the blue and white ornament.

I am still working on the stocking and am contemplating where to use more metallic threads and beads. Stocking should be finished for my next post.